(Essay)
Warumungu palanmirri Manu ngara apparr

Warumungu Warriors: A Story of Manu (Country)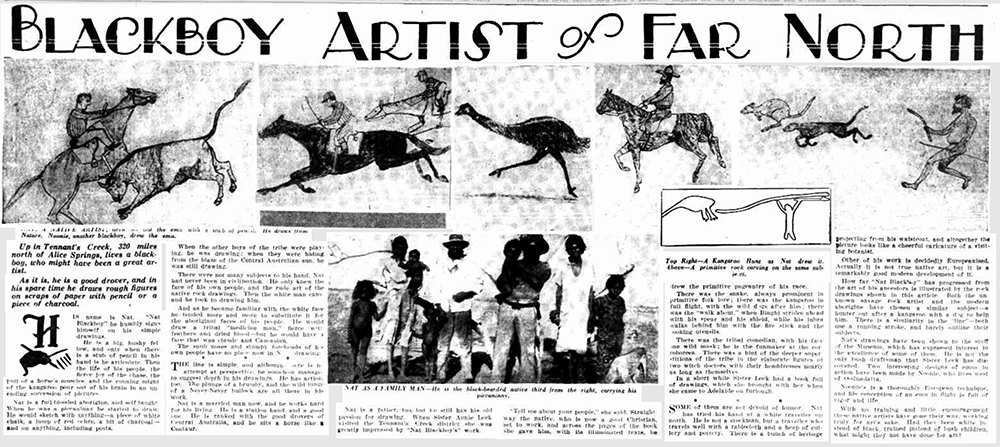 THE DAILY NEWS, SATURDAY 14TH OF JANUARY, 1932


UP IN TENNANT CREEK, 320 MILES NORTH OF ALICE SPRINGS
LIVES A BLACK-BOY, WHO MIGHT HAVE BEEN A GREAT ARTIST
AS IT IS, HE IS A GOOD DROVER
IN HIS SPARE TIME, HE DRAWS ROUGH FIGURES ON SCRAPS OF PAPER WITH PENCIL OR A PIECE OF CHARCOAL
HIS NAME IS NAT…NAT BLACK BOY.


OLD MAN NAT, TRACKER NAT, MY MOTHERS FATHER, MY GRANDPA


OUR OLD ONES FOUGHT HARD FOR LAND RIGHTS,
OUR RIGHTS, ONE OF THE LONGEST FIGHTS... IN THE HISTORY OF OUR STRUGGLE.


WE ARE STILL RUBBISHED NOW, EVEN FROM THE HIGHEST LEVEL
BUT WE HAVE TO RECOGNISE AND ACCEPT WHATS HAPPENED IN THE PAST IN ORDER TO MOVE FORWARD, WE HAVE TO KEEP FIGHTING IT NOW


WE NEED TO FACE AND SHOULDER OUR RESPONSIBILITES AS MEN, TO OURSELVES, OUR FAMILIES AND OUR COMMUNTIES – WE ARE STILL WARRIORS IN THIS NEW WORLD
WE ARE THE CULTURE MEN, WE ARE THE CREATIVES, THE SO-CALLED NATIVES
WE CAN TRAVEL IN OUR DREAMS
WE'VE GOT TO GO BACK TO COUNTRY FOR THOSE DREAMS
OUR COUNTRY HAS SPIRITS – ITS ALIVE – AND IT NEEDS US
OUR SPIRIT AND COUNTRY ARE CRYING FOR US, FOR WE HAVE BEEN REMOVED FROM OUR GROUNDS.


WE NEED STRONG RESOLVE


JOHN MCDOAULL STUART CAME TO A HALT AT ATTACK CREEK
BLOCKED BY OUR WARUMUNGU WARRIORS AND TURNED AWAY
BACK DOWN THE STUART HIGHWAY
BUT HE AND HIS MEN WERE ASTONISHED WHEN THEY SAW OUR WARRIORS DOING MASONIC HANDSIGNS AS THEY SOUGHT TO COMMUNICATE ACROSS THE BLACK AND WHITE LANGUAGE DIVIDE


I WONDER WHAT THE WHITES WERE THINKING


I WONDER WHAT THE WHITES WERE THINKING


MAYBE THESE PEOPLE ARE ANCIENT




Image credit: The Mail (Adelaide, SA : 1912 - 1954), Saturday 14th of January 1932. Original material contributed by State Library of South Australia.